"At every locality where ocean meets land, there are the cliffs of dark, jagged rocks. If you look over the edge, there lies a mist a few feet below; so thick, you can't see the water. As far as the eye can see, nothing but white, puffy mist, as if we hang in the clouds and to step off the edge would leave us falling for days. If not for the violent sound of the waves against the rocks somewhere far below, one might suppose our lands were an island in the sky."
— Alexa Daley's thoughts about the Land of Elyon in Beyond the Valley of Thorns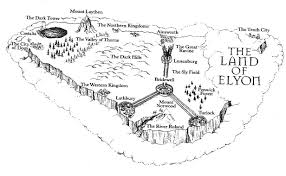 The Ten Cities
Edit
Other Places
Edit
Ad blocker interference detected!
Wikia is a free-to-use site that makes money from advertising. We have a modified experience for viewers using ad blockers

Wikia is not accessible if you've made further modifications. Remove the custom ad blocker rule(s) and the page will load as expected.